Sports headphones can be challenging to find because there is often individual preferences involved. If you are looking for sports headphones, there is one crucial thing: they must be wireless. Because only then are you guaranteed complete freedom of movement.
Danish brand MIIEGO has been making wireless sports headphones focusing on functionality, quality, and solid sound experiences since 2010. Headphones, sports, and movement are our great passion and what we at MIIEGO have chosen to specialize in.
We do this because sports headphones are a niche where we can make a difference with our quality products. Many people may not want to think about buying special sports headphones, but the truth is that training, running, and movement require a lot from your headphones.
MIIEGO's sports headphones are made to last for exercise. And what does that mean? That means that we have considered all of the challenges that you experience when using your headphones for sports.
SPORTS HEADPHONES WITH HIGH COMFORT
Your headphones should sit tightly when used for sports or training. That's why all of MIIEGO's products are designed with an ultra-comfortable fit that sits securely and firmly throughout your workout.
This includes unique details such as memory foam eartips in our in-ear headphones, a padded headband in our BOOM series and various sizes of our AL3+ FREEDOM headphones. Just to guarantee both comfort and functionality during movement and sports.
To be honest – no one wants to see their headphones fall to the ground during a run or feel them buckle around their ears throughout a workout.
Do not be afraid of rain and sweat with MIIEGO's sports headphones
All our sports headphones also withstand sweat and water, and several of our products are completely waterproof. In addition, several of the headphones come with replaceable earpads that can be washed after use. So, when you use MIIEGO headphones for sports, never worry about rainy runs in the woods or sweaty workouts in the gym.
WIRELESS HEADPHONES, SPORTS, AND MANY HOURS OF SOUND
You may have tried to take your headphones with you to your workout and felt thedisappointment when they report a low battery after only 15 minutes? We at MIIEGO have taken this into account. That is why all our sports headphones have a very long battery life. Our over-ear headphones BOOM by MIIEGO, for example, have up to 36 hours of playing time on just a single charge, and our in-ear headphones MiiBUDS ACTION II,come with a charging case that in total provides up to 90 hours of razor-sharp sound.
MIIEGO IS PASSIONATE ABOUT SOUND FOR MOVEMENT
The reason why we at MIIEGO specialize in sports headphones is down to MIIEGO's CEO, Christian Jeppesen. Christian, who founded the company in 2010, is himself a sports enthusiast who has a burning passion for the sport of football in particular. Based on the combination of sports interest and Christian Jeppesen's passion for great sound, MIIEGO emerged. A brand that, over 10 years after its founding, still has its solid place in the market as a supplier and manufacturer of quality headphones for sports and active lifestyles.
TESTED AND APPROVED BY ATHLETES
For the same reason, we at MIIEGO also have several athletes as ambassadors for our headphones. They are ambassadors for the simple reason that they believe in the products and have tested them as part of their extremely active everyday life.
Sports headphones that last for life on the water
Team MIIEGO includes, among others, the professional rower René Holten Poulsen, who has won medals at the Olympics, the European Championships and the World Championships in kayaking. When René sits in his kayak with MiiBUDS ACTION II on, he can train at full throttle to the music without having to worry about getting water and sweat on his headphones.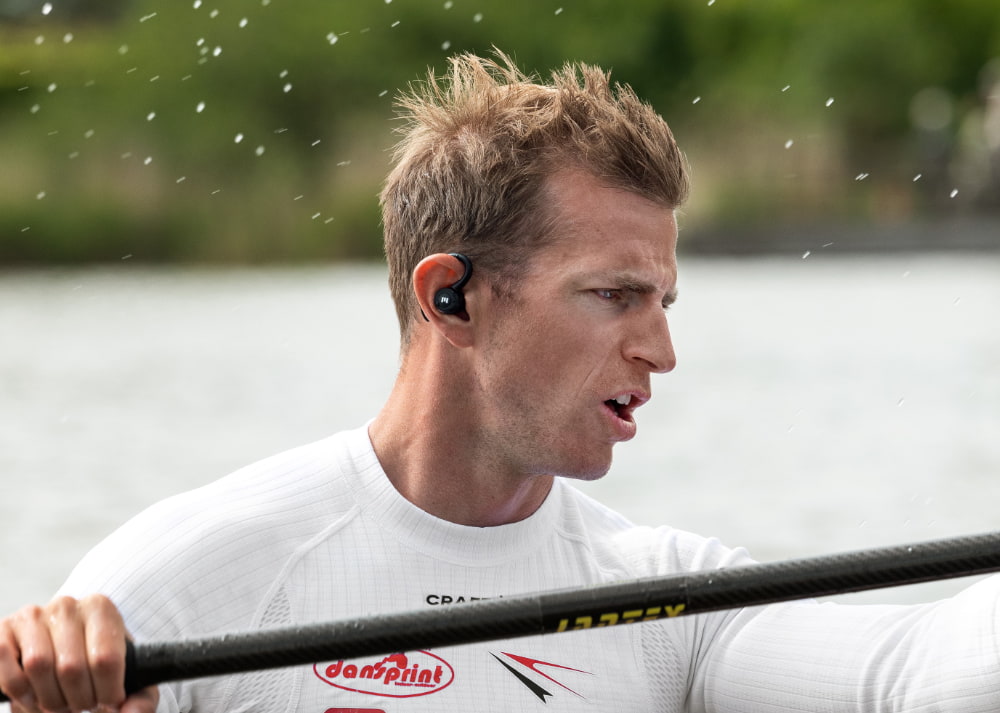 As René himself describes it: "In general, it is important in water sports that the headphones are waterproof. And then that they sit incredibly lightly on my ears. You still move a lot, so the ear-hook helps as I do not have to worry about whether they will sit perfectly when I train ".
René Holten Poulsen also has no doubt as to why he is an ambassador for MIIEGO's sports headphones. He explains: "It is super cool to work with a Danish brand of the highest quality. MIIEGO is high quality with great design that suits every layer of our society. It is also a brand that focuses on sports, but is just as suitable for casual use".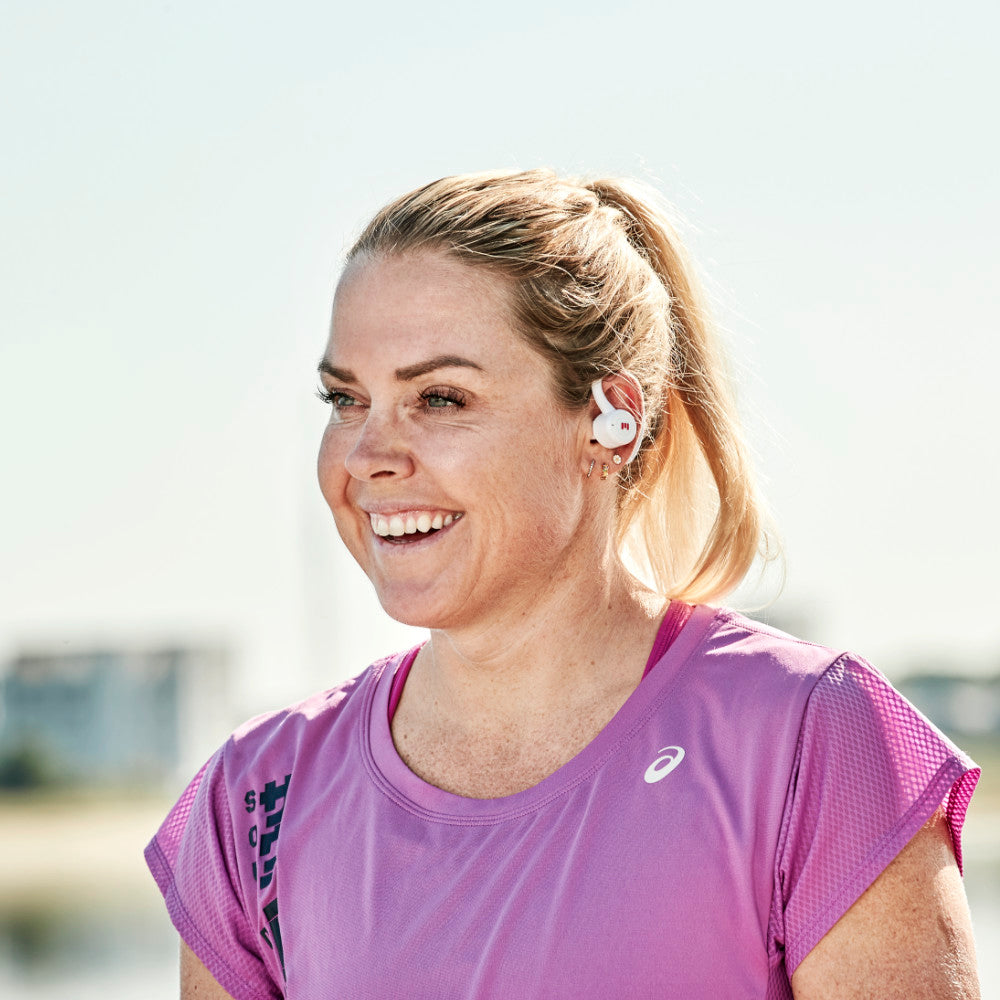 Keep smiling with good sound
René Holten Poulsen is not the only professional athlete we have as an ambassador. The Danish triathlete Michelle Vesterby, who has won 13 medals in various IRONMAN and triathlons, is also an ambassador for MIIEGO and uses our sports headphones. Her motto is "Keep smiling", and for Michelle music motivatesher to smile her way throughher training. Michelle explains:"When I run or train in the gym, it's just insanely nice to have music in my ears. And my equipment just has to work. That's why I use MIIEGO"
HEADPHONES FOR BOTH SPORTS AND EVERYDAY LIFE
But does that mean we make sports headphones that can only be used for sports? Certainly not. MIIEGO is known for making headphones for sports, but our large selection of products alsoworkin all other aspects of your everyday life.For example, our BOOM ANC with active noise cancellation are not only used for training sessions where you must be absolutely focused. They are also used at work, where large-scale offices in many cases provide a clear need to be able to close off and concentrate. Others also use the BOOM ANC headphones in everyday life,when they need to create space for "me-time" with a podcast or audiobook.
TEAM MIIEGO IS FOR YOU TOO
In the same way, our community, Team MIIEGO, is not just for ambassadors and top athletes. Instead, it is a large community of all MIIEGO users who prioritize good sound as part of their active lifestyle. A community where all members come together and share motivation, a joy for training and fantastic sound experiences.
Here it does not matter whether you use your headphones for sports, to run a marathon, to work out in the gym, to stretch out or to find peace on a walk. Team MIIEGO is all about finding just the right balance and listening to your favourite tracks or podcasts along the way.
Do you also want to be part of Team MIIEGO? But are you in doubt about which headphones to choose?
See our overview of the many award-winning headphones we have in our range.
Do you already know that your new headphones will be used for indoor training? Then find the right pair here.