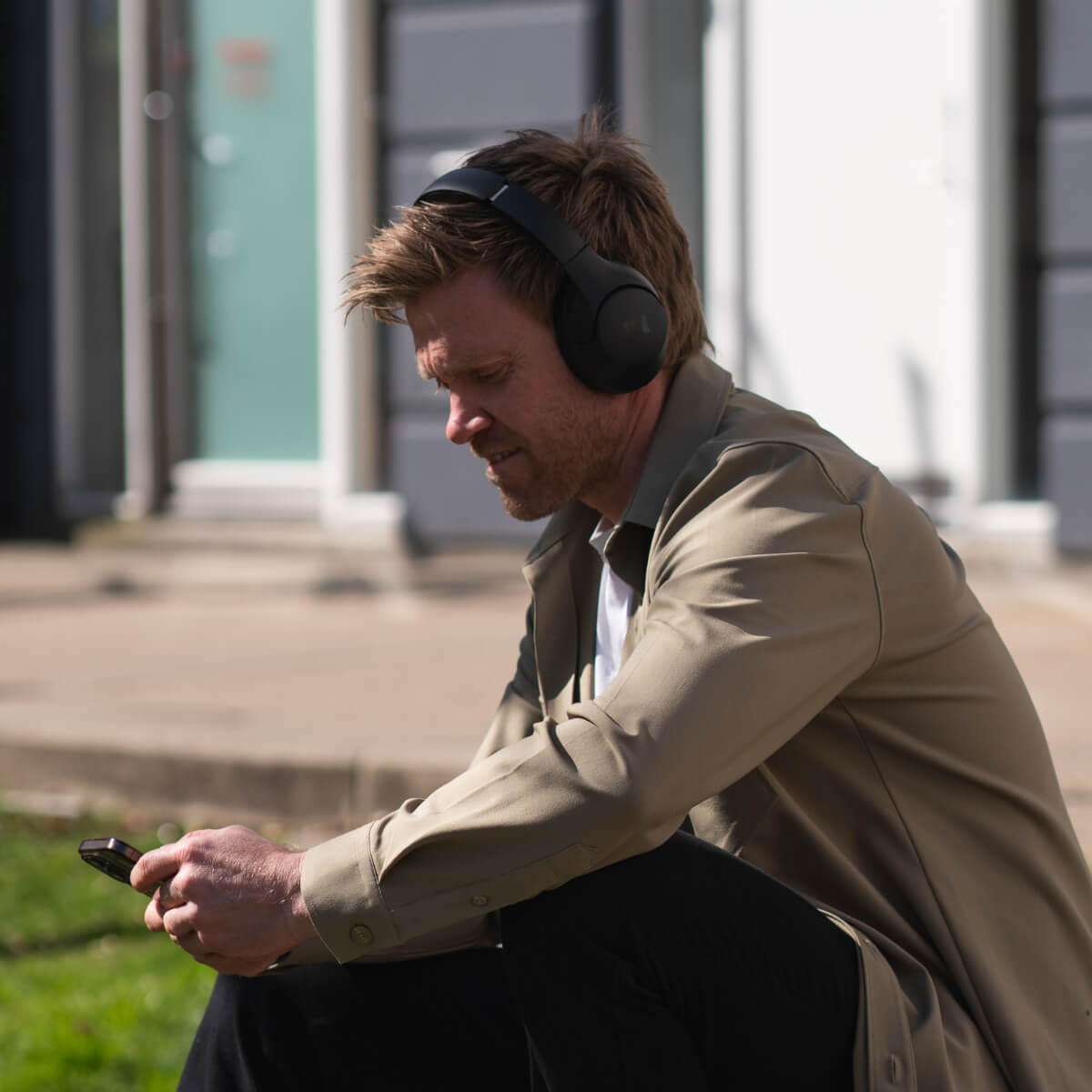 PRO = ANC - ACTIVE NOISE CANCELLATION
The new MOOVE45i PRO is now available with the popular noise-canceling ANC function.

Block and reduce the sound from your noisy surroundings and enhance your focus on the music, your podcast, workout, work, meditation, or whatever you want to focus on.

The function can easily be turned on and off on the side of the headphones.

MOOVE45i PRO is designed for all-round use and to take with you on the go. Use your new favorite headphones for running, training, relaxation, travel, office use, and much more...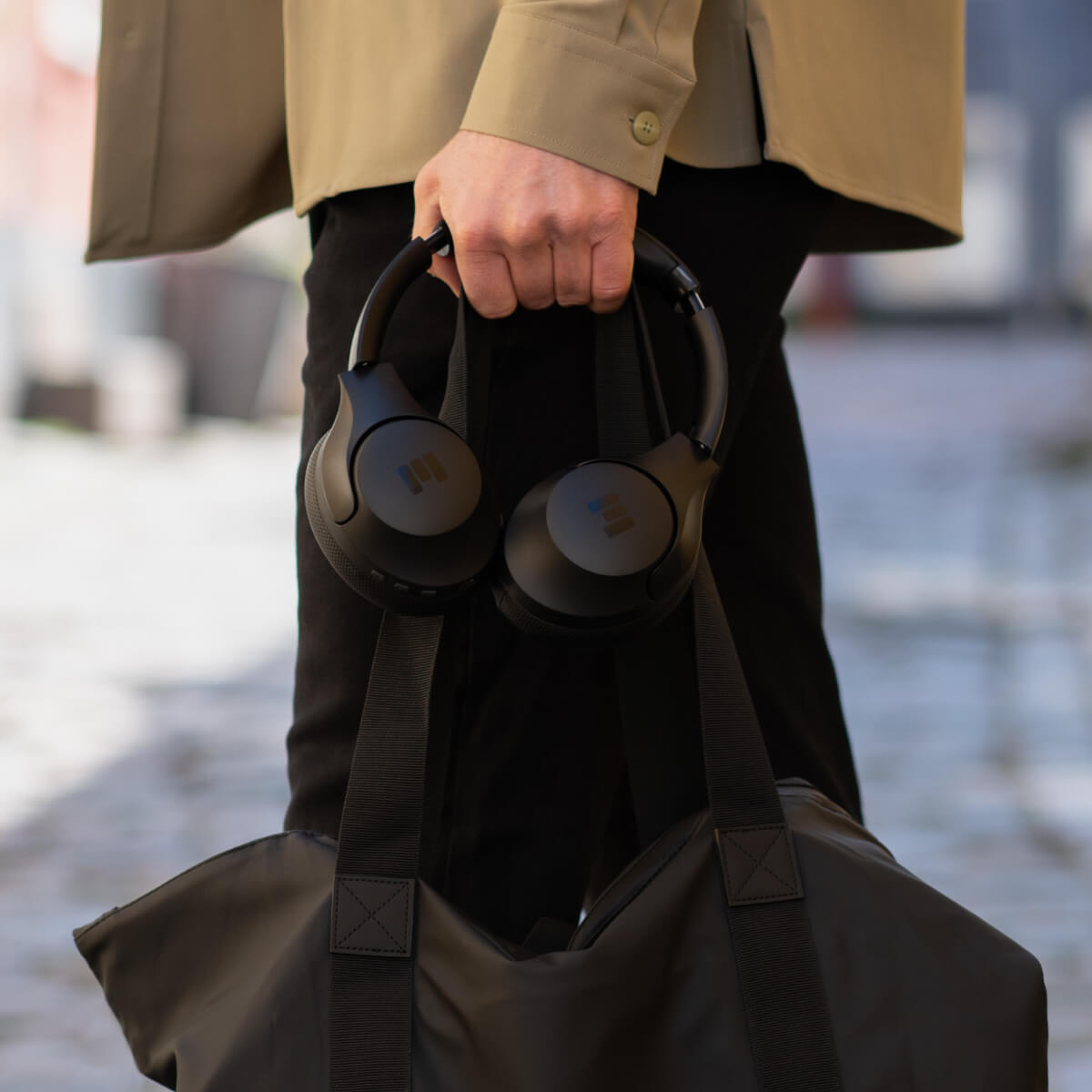 THE MIIEGO SOUND: AWARD-WINNING DANISH HIGH PERFORMANCE AUDIO
Are you ready for an amazing and impressive sound experience without distracting cables?

The MOOVE 45 PRO over-ear headphones from Danish audio specialists, MIIEGO®, deliver delicious high-quality sound in a sleek and streamlined design: black-in-black.

With its lightweight design, MOOVE 45 PRO is built for a comfortable life on the go, and the ultra-soft MIIEGO PU leather ear cushions sit comfortably and comfortably on the ears.

The headphones ensure an uncompromising sound experience whether it is for indoor or outdoor use. There is also a built-in low latency function that can be easily activated.

The headphones are sweat and light rain resistant as they are IPX4 certified.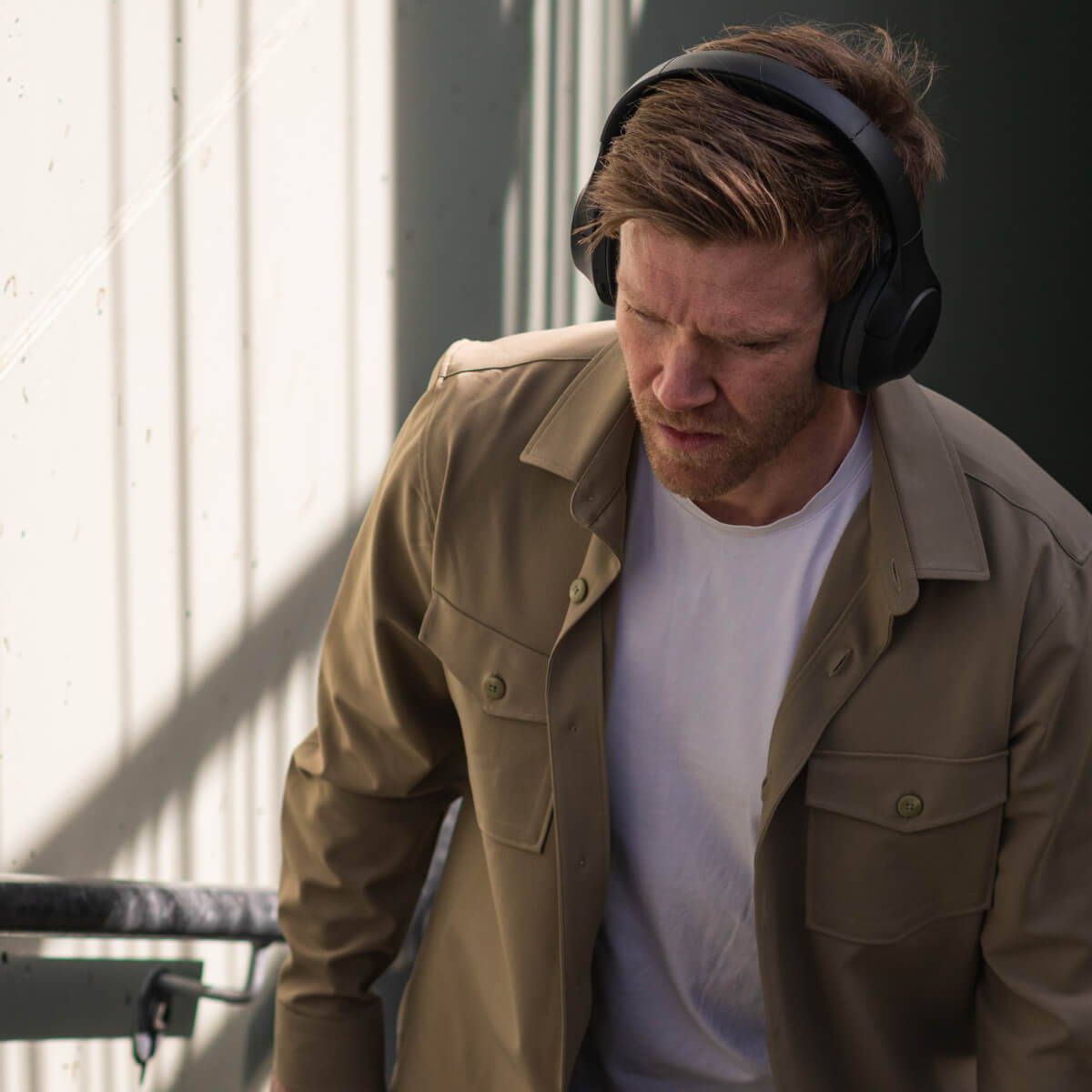 DESIGNED TO BE ON THE GO...
MOOVE45 PRO delivers crystal clear sound with solid bass and sharp treble.

Perfect for intense listening to your favorite music or favorite podcast.

MOOVE 45 PRO has an adjustable headband, and the foldable design with rotatable ear cups ensures both higher comfort and less storage space when you need to take the headphones with you on the go.

We almost dare to promise that MOOVE45 PRO will become your new favorite music and travel companion.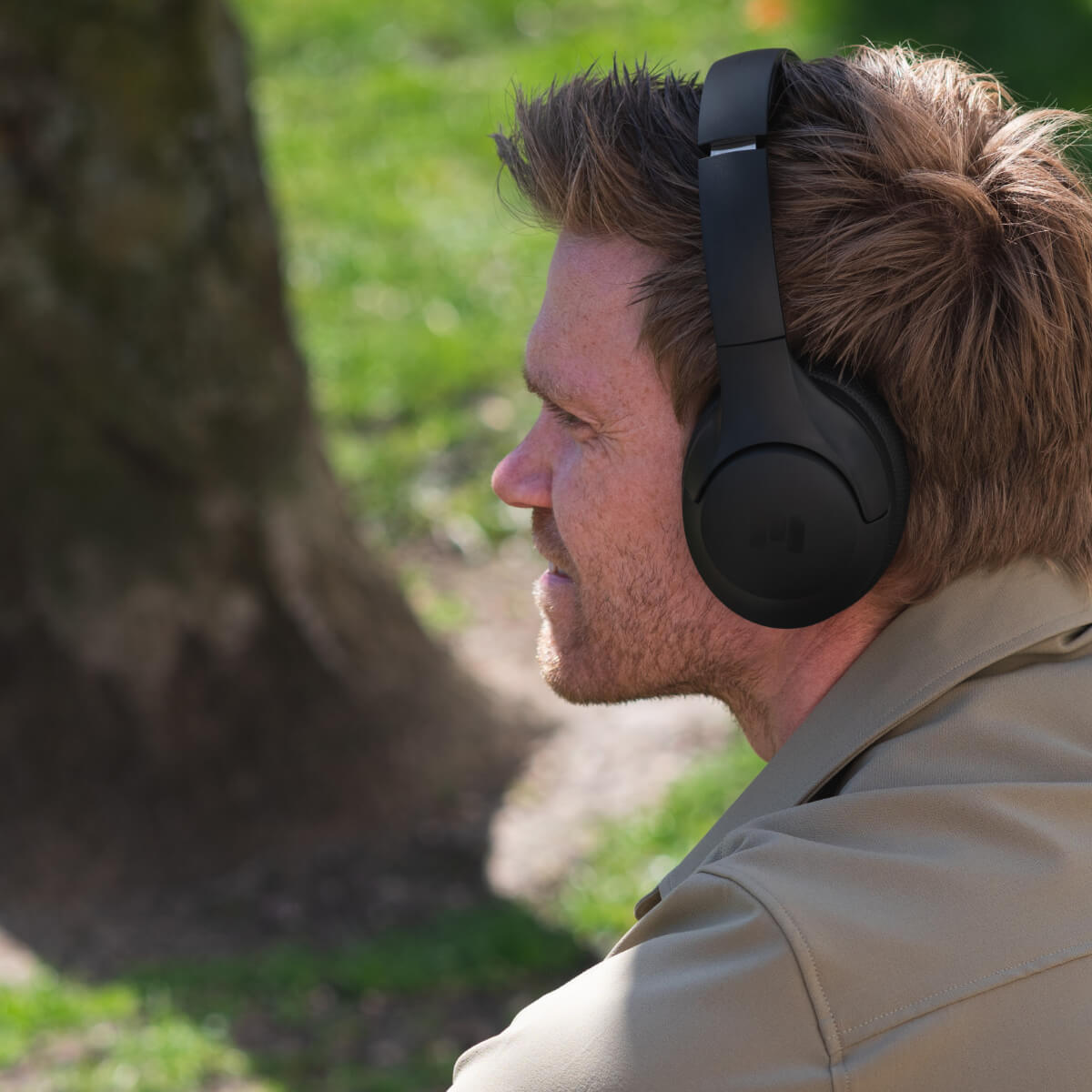 SIMPLE AND ELEGANT DESIGN
The MOOVE 45 PRO headphones are designed in a simple and sleek style in the best Scandinavian fashion.

The ultra-soft MIIEGO ear cushions, which cover the ears, ensure a good and comfortable fit and a consistently enjoyable experience, even when using the headphones for many hours at a time.

The MOOVE 45 PRO is a solid and stable set of all-around headphones that can be used for both workouts and everyday use.

There is also a built-in microphone, so you can easily make calls without tangled wires.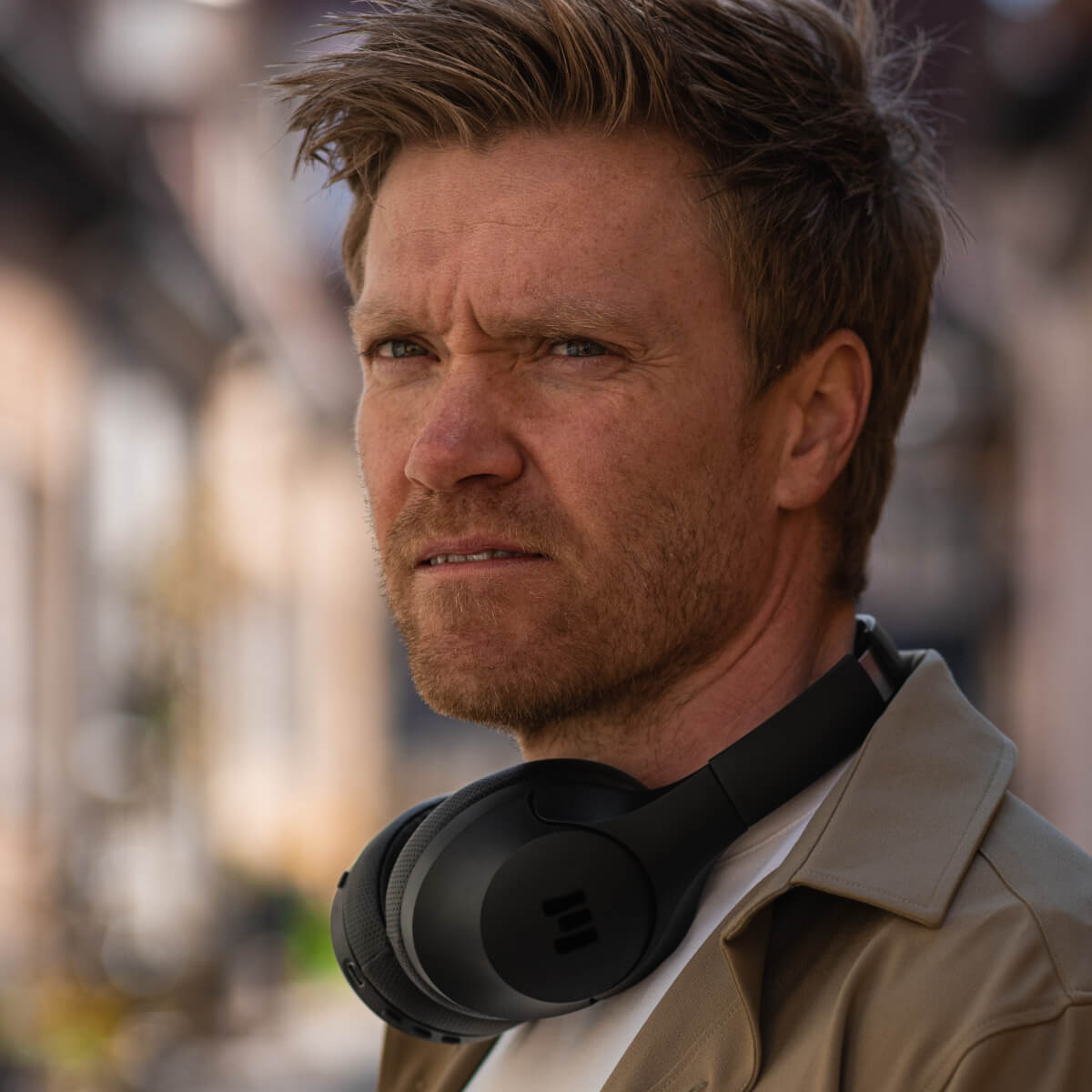 FAST CHARGING AND EXTREMELY LONG BATTERY LIFE
With up to a whopping 70 hours of battery life, you get enough playtime for several days of delightful music and audio experiences in your ears with just a single charge. When the ANC function is turned on, you get up to 35 hours of battery life at 50% volume.

Therefore, you don't have to worry about, but can simply enjoy the freedom of having MOOVE45 PRO in your bag ready to play your favorite music anywhere.

The MOOVE series has built-in fast charging, where 10 minutes of charging gives you up to 4 hours of battery life without ANC and 2 hours with ANC. Perfect for when you're in a hurry...

*The exact battery life depends on the volume and type of music you listen to. We recommend listening to music at high volume as it can damage
Technical Specifications
Type: Over-Ear w. ANC
Product Name: MOOVE45i PRO by MIIEGO®
Art. No: 11076
BT Version: 5.3
Wireless Range: Up to 15 metres
Product Weight: 235 grams
ANC effect: Up to 22 dB
IPX Level Certification: IPX4
Built-in Microphone: Yes
Ultra-comfortable MIIEGO® ear-cushions
Low latency function
Charging Cable: USB-C
Battery Type: Lithium-Ion 400 mAh
Transmitting Frequency: 2,4 GHz
Frequency Response: 20Hz – 20KHz
Battery Playing Time: Up to 70 hours without ANC – 35 hours with ANC
Wired Option: No
Fast-Charging: 10 min. grants 4 hours wo/ANC and 2 hours w/ANC
Multipoint-connection: Up to 2 units
Plastic-free packaging in recyclable cardboard
EAN 13: 0600310772705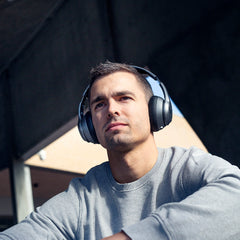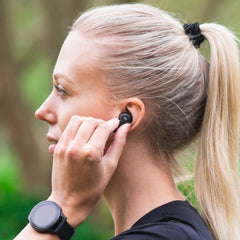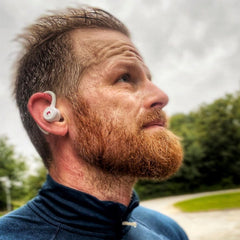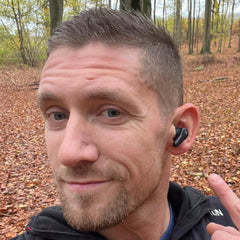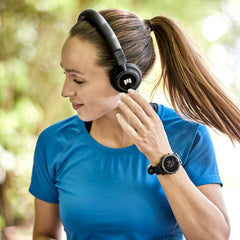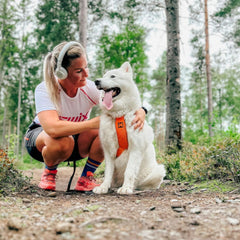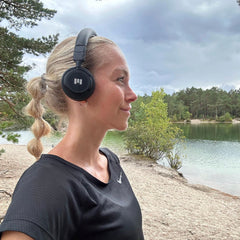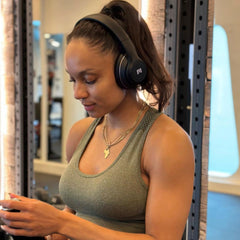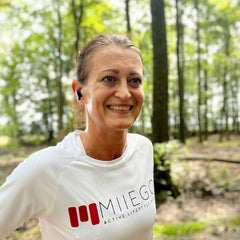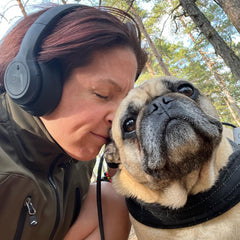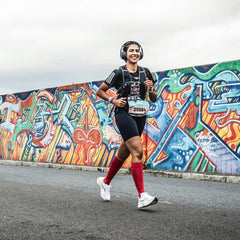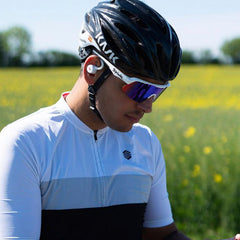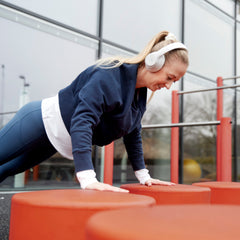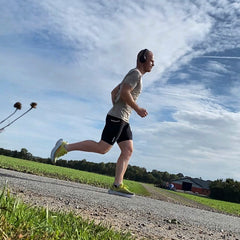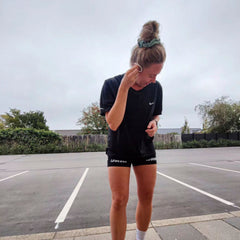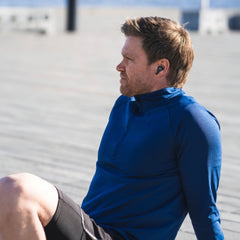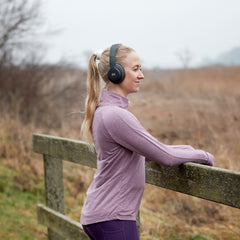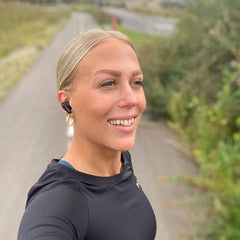 #teammiiego